Samsung Semiconductor's business aims to achieve excellence as a long life, energy saving and eco-friendly light source supplier in displays and lighting applications. Samsung offers LED based lighting solutions in the form of back light units in display panels, exterior and dashboard lighting in automotive (meeting the guidelines of AEC standard), lighting packages and engines with and without integrated optics, and drivers.

1 W class middle-high power LED
High lumen ux for lamps and downlights
EMC resin for high reliability
Standard Footprint: 3.0 mm x 3.0mm

Chip on Board (COB) solution makes it
easy to design in
Simple assembly reduces manufacturing cost
High efficacy
Color consistency within MacAdam 3 step & 2 step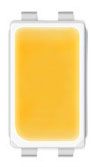 0.3 W class mid power LED
Mold resin for high reliability
Standard form factor for design flexibility (5.6 x 3.0 mm)

Greater freedom of design with compact package size
High degree of reliability with plastic- free structure
Low thermal resistance
High efficiency providing optimized solution
Compact footprint: 1.18 x 1.18 mm

Operates at a maximum current of up to 3.0 A
Uniform light distribution under any beam angle
90 CRI makes it well suited for most applications
Hot binning at 85oC
Texas Instruments focuses on developing analog chips and embedded processors that power electronics across every industry. TI entered the semiconductor business, devising microprocessors in the 1970s and digital signal processors in the 1980s. Now it is a global Fortune 500 technology company with more than 40,000 patents to its name.
The TPSM84A21 is an easy-to-use integrated power solution: step-down converter with power MOSFETs. It allows standard applications to operate with no additional input or output capacitors; only a single external resistor to set the output voltage.
MSP430F42X SMART POWER MANAGEMENT
The TI MSP430TM family of ultra-low- power microcontrollers consists of several devices featuring different sets of peripherals targeted for various applications. Typical applications include high-resolution applications such as handheld metering equipment, weigh scales, and energy meters.
The high performance CC3200 is the industry's first single-chip Microcontroller (MCU) with built-in Wi-Fi connectivity for the LaunchPadTM ecosystem. Created for the Internet of Things (IoT), the SimpleLink WiFi CC3200 device is a wireless MCU that integrates a high-performance ARM®Cortex®-M4 MCU allowing customers to develop an entire application with a single IC.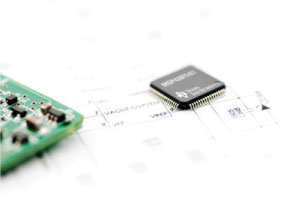 The OPAx388 series of precision operational amplifiers are ultra-low noise, fast-settling, zero-drift, zero-crossover devices that provide rail-to-rail input and output operation.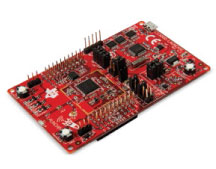 Evaluation kit used to start your development on the CC3200 single-chip microcontroller and Wi-Fi solution.
Panasonic Industrial Devices Sales Company of America is the industrial components and electronic devices division of Panasonic Corporation of North America. It provides key components that power the home appliances, consumer electronics, computers, communications, and commercial and healthcare products.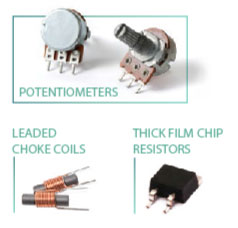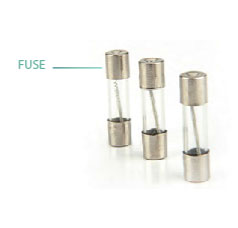 Panasonic offers a broad line of Resistors that include xed, conventional Thick Film Chip Resistors or specialized types like Anti-Sulfur, Surface Mount and Leaded EMI Filter, Fuse, Potentiometers, Trimmers, and Arrays and Networks for all applications. Panasonic Inductive Products include high performance Chip Inductors, in laser-cut or wire-wound technologies. Panasonic also offers a broad range of SMD and Leaded Choke Coils, as well as Filters for EMI, Noise/ ESD, a broad range of AC Leaded Line Filters as well as Voltage Step-up Coils.
Vishay's product portfolio is an unmatched collection of resistors, inductors, and capacitors. They are used in all types of electronic devices and equipment in the industrial, computing, automotive, consumer, telecommunications, aerospace, and medical markets.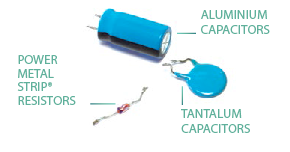 Vishay offers a broad choice of aluminum capacitors, multilayer and single-layer ceramic capacitors, lm capacitors, polymer and tantalum capacitors. It also offers a wide range of inductors and discrete resistors that include thin lm surface-mount resistors, thick lm, metal oxide lm, carbon lm, and wirewound, as well as Power Metal Strip® resistors.
ON Semiconductor is driving energy efficient innovations, empowering customers to reduce global energy use. The company offers a comprehensive portfolio of energy efficient power and signal management, logic, discrete and custom solutions to help design engineers solve their unique design challenges in automotive, communications, computing, consumer, industrial, LED lighting, medical, and power supply applications. Fairchild has been acquired by On Semiconductor in 2015.
Integrated Synchronous DC-DC Step Down Converter capable of delivering up to 5A. It offers high efficiency, fast load transient response and high switching frequency which reduces the output filter size.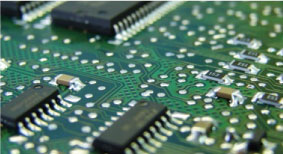 FAM65V05DF1 is an advanced Auto SPM Module providing a fully featured high performance auxiliary inverter output stage for hybrid and electric vehicles. These modules integrate optimized gate drive of the built-in IGBTs to minimize EMI and losses in compact 12 cm2 footprint.
The FL77904/FL77905 is a direct AC line LED driver with a minimal number of external RC passive components and an over temperature protection (OTP). It achieves high efficiency with high PF (power factor above 0.98) and low THD (under 20% in normal configuration) which makes the FL77904/FL77905 suitable for high-efficiency LED lighting systems with good dimmer ability.
The FPF2895 features a 28V and 5A rated current limit power switch, which offers over-current protection (OCP), over-voltage protection (OVP) and true reverse current block (TRCB) to protect system. It has low resistance of typical 27mΩ. It supports +/-10% of current limit accuracy, over-current range of 500mA to 5A, flexible operations such as selectable OVP, selectable ON polarity and selectable OCP, which can be optimized according to system requirements.
The NCV7681/ NCV7683 consists of eight 100 mA linear programmable constant current sources. The part is designed for use in the regulation and control of LED based Rear Combination Lamps and blinking functions for automotive applications. System design with the NCV7681 allows for two programmed levels for stop (100% Duty Cycle) and tail illumination (programmable Duty Cycle), or an optional external PWM control can be implemented.